Visit the power center of Ukraine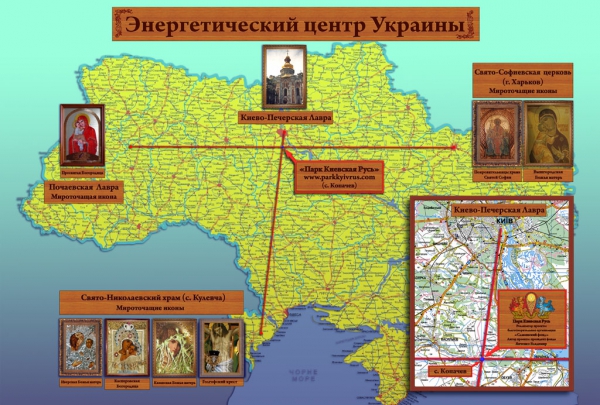 Ancient Kyiv in the "Kievan Rus Park" is the power center of Ukraine. If we conduct imaginary lines between four Ukrainian sacred objects: from Kievan-Pechersk Lavra in the north to the Saint-Mykolaiv temple in the village of Kulevcha of the Odesa area in the south, and from Pochaivska Lavra on the west to the Saint-Sofiivska church in Kharkiv in the east - then the "Kievan Rus Park" will appear in the intersection of these lines.
Thousands of people from all over Ukraine and the entire world come here every year in order to heal the body and soul. Many people who have visited the Park, have noted that they have experienced on its territory a unique special power that can be compared only with the energy of the most sacred places of the country. Guests say that in the "Kievan Rus Park" they get charged with energy, optimism, forget about diseases and get filled with youth.
And the most interesting thing is that the mysticism of the " Kievan Rus Park" does not end on this. Here, since ancient times has found its place the stone of Veles - the sanctuary of one of the main Slavic gods. In ancient times, people came to this stone in the same way as they now go to church to ask for themselves and their relatives health, success in business, traveling. If you put your hands on the stone of Veles and mentally turn with similar requests, you can see its strength even now.
Another manifestation of ancient knowledge, which you will face in the "Kievan Rus Park" - is a conversation with runes. The wise woman will ask you to pull out from the bag one of the runes and will tell you what awaits you in the near future, or how to do best in this situation. Come to Ancient Kiev and feel the power and mystique of this amazing place!