The Kievan Rus Christening Day
Rest in Ancient Kiev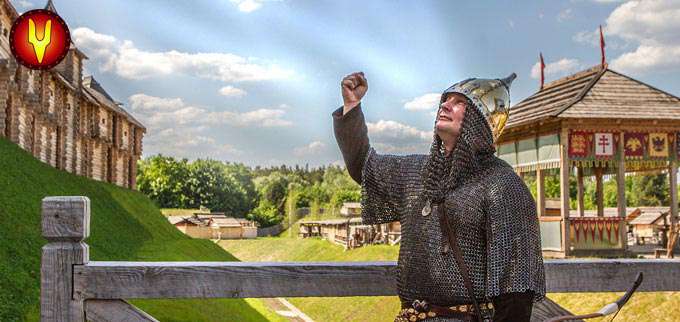 Dates:
27 July 2019
-
28 July 2019
Park open:
10:00
-
23:00
Place: Ancient Kyiv in the Principality of "Kyivan Rus" | City: Kopachov, Ukraine
On July,27-28 in the «Kievan Rus Park» the celebration of the Rus Christening Day will take place. The Kievan prince Volodymyr the Great – the creator of the medieval European country Rus-Ukraine. The ancient events linked to the Rus christening will be recreated within the Ancient Kiev theatre performances.
Several scenes from the history of the Rus will come alive in front of you: the journey of Olga to Constantinople, the religion choice of prince Volodymyr, the marriage of the prince with Anna,the sister of the Byzantine emperor, the overthrow of pagan idols and other.
You will travel through centuries and kilometers - from the Kievan Rus to Byzantine, from the XXI c. to the Х c.
The chariot races, the horse archers tournament and the equestrian knights competitions will be very spectacular.
Besides, you will be awaited by numerous activities: master-classes on folk crafts, on medieval weapon wield, cheerful ancient games, fiery Slavic round dancings and an exciting dancing flash mob.
In this way, everybody will feel himself acquainted to the celebration of the historical date.
The celebration of the Rus christening day in Ancient Kiev will allow to touch the history sources of our nation, to better understand the choice of our ancestors and also to get charged with the energy of Ancient Kiev and feel its` spirit inside.
A feeling of adrenaline for the guests will be provided by the fascinating zipline Politailo (where everyone can not only descend from the height, but also fly over the lake), as well as the high-speed slide "Zmey Gorynych", after which you can take a picture with a fire-breathing dragon..
Telephone
+38044 461-99-37, +38 050 385-20-35
Email
This email address is being protected from spambots. You need JavaScript enabled to view it.
Theatrical program
14:00 - 22:30 (sun, 14:00-20:00)
Buses from the subway Vydubychi
10:00, 12:00, 14:00 - Fare 40 UAH.
Buses from The Principality
17:00, 20:00, 22:30 (sun, 16:00, 18:00, 20:00) - Fare 40 UAH.
Address
Ancient Kyiv in the Principality of "Kyivan Rus"
Kopachov, Ukraine

Share this with your friends