Helloween in Ancient Kyiv
Rest in Ancient Kiev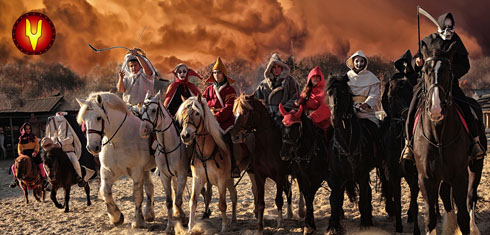 Dates:
31 October 2020
-
01 November 2020
Park open:
10:00
-
18:00
Place: Ancient Kyiv in the Principality of Kyivan Rus | City: Kopachiv, Ukraine
Only Slavic evil spirits will come on Halloween in Ancient Kiev
On October, 31 - November 01 – Halloween will be celebrated in the «Kievan Rus Park». But on this festival there won't be any promoted monsters from western cultures such as zombies and witches in pointed hats. All local evil spirits will be authentic. These characters are known to us from the very childhood – from folk fairytales. Now you have a possibility to make friends with these picturesque antiheroes, to shake hands with them, make a photo, and play mobile games or dance together with them.
The celebration will start with the evil spirits` parade. Баба Яга, Кикимора, Леший, Водяной, Чертик and other scary representatives of the ancient Slavic mythology will solemnly appear there. Each of them will be presented to the guests, will be told what it is known for and which supernatural abilities it uses to play dirty tricks on people.
And afterwards a merry celebration with witty jokes, medieval games and fiery round dancings will start. Evil spirits will invite the guests to a master-class on the «Marazulya» dance, will offer to play medieval football and also to take part in other interesting competitions and interactives. The theatrical wedding of the mythological characters – Leshyi and Kikimora will become a merry action.
Ancient Kiev guests will get a chance to penetrate in the speckled company of monsters. Because on Halloween in order to defend yourself from evil spirits you have to put on a mask or a costume. Those who will come to the «Kievan Rus Park» in a carnival costume will make significant savings on the cost of the entrance ticket.
A feeling of adrenaline for the guests will be provided by the fascinating zipline Politailo (where everyone can not only descend from the height, but also fly over the lake), as well as the high-speed slide "Zmey Gorynych", after which you can take a picture with a fire-breathing dragon.
And of course, you can taste delicious dishes from princes cooks in the Princely Tavern and in food points in the open air and in arbors.
Also you can stay for the night in the hotel-type house «4 rooms», which is situated in a five-minutes walk from the Detinetz of Kyiv or in the hostel.
*More information about accommodation: + 38050-385-20-35.
Gather a big company, because it's fun together! Come and take photos and be sure to share your impressions and photos with us. networks.
You will see:
The prince's stable, where you can ride a horse
Medieval shooting range, where you can shoot a bow or leave knives at the target
Mint, where you can mint a coin "for luck"
Fortune-teller
Exposition of shipbuilding, where you can see the world's only reconstruction of the boat of Kievan Rus (which, moreover, took part in a scientific expedition)
Torture room, where you can take pictures in the debt pit or by the shackles
Forest lake for recreation
Shop of souvenirs, gifts and amulets of Kievan Rus
More information: +38 044 461-99-37, +38 050 385-20-35
You can also buy tickets in Ancient Kyiv
In connection with unpredictable situations, weather conditions, the administration of the Ancient Kyiv can make changes to the content and timing of the program.
*One entry ticket operates per person for one day of the event!
In case of not holding (cancellation) of the event, the Buyer returns 100% of the nominal value of the ticket. In the case of returning a ticket at the buyer's initiative, a commission of 10% is deducted from its value, which is not subject to return to the buyer. The ticket may be returned, in case of a buyer's appeal no later than one day prior to the day of the event, until 16:00 a.m., except for weekends and holidays.
The cost of an entrance ticket is included
Entrance to Ancient Kyiv.
Participation in gaming programs for children and adults.
Entrance to museum of historical costumes, visiting of expositions.
Parking.
WC.
Other activities on the tilting yard during the program.
*Services are provided by the partners of Ancient Kyiv.
The program may change!
Telephone
+38044 461-99-37, +38 050 385-20-35
Email
This email address is being protected from spambots. You need JavaScript enabled to view it.
Address
Ancient Kyiv in the Principality of Kyivan Rus
Kopachiv, Ukraine

Share this with your friends