New Year program "Fairytale city"
Rest in Ancient Kiev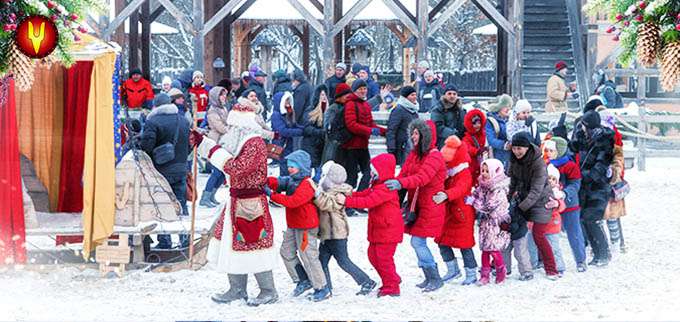 Dates:
23 December 2019
-
24 December 2019
Park open:
10:00
-
17:00
Place: Ancient Kyiv in the Principality of Kyivan Rus | City: Kopachov, Ukraine
Visit the Principality of Kievan Rus! Give yourself and your children a trip to a fairy tale in reality!
Immediately behind the large entrance gates, guests of Ancient Kiev will see a large tilting yard and the majestic Mikhailovsky Gate. Take a walk along the streets of the suburbs, climb the princely stands and take pictures on the thrones of the prince and princess. Open with your own hand the Mikhailovsky Gate of Kiev Detinets.
Take a look at the houses of the inhabitants of Ancient Kiev, walk to the Emerald Lake. Look around from the height of Perun hill: you will see the same landscape that was here a thousand years ago - forests, ravines, fields.
Please note that the author's performance on December 20, 23, 24, 26, 27, 30 will not take place. Days of performance: December 14, 15, 19, 21, 22, 25, 28, 29, from January 2 to 7, 11 and 12.
Santa Claus will receive visitors in his residence during the "New Year fairytale" from December, 14 till January, 12. The guests can put a letter into the Magic wish box and make a bright photo session with the fairytale characters for memory.
Give yourself, your children and loved ones a trip to Kievan Rus itself!
Also you can stay for the night in the hotel-type house «4 rooms», which is situated in a five-minutes walk from the Detinetz of Kyiv or in the hostel.
*More information about accommodation: + 38050-385-20-35.
Gather a big company, because together it's more fun! Come and take photos and be sure to share your impressions and photos in social networks.
Book tickets: +38 044 461-99-37, +38 050 385-20-35
You can also buy tickets in Ancient Kyiv
In connection with unpredictable situations, weather conditions, the administration of the Ancient Kyiv can make changes to the content and timing of the program.
*One entry ticket operates per person for one day of the event!
In case of not holding (cancellation) of the event, the Buyer returns 100% of the nominal value of the ticket. In the case of returning a ticket at the buyer's initiative, a commission of 10% is deducted from its value, which is not subject to return to the buyer. The ticket may be returned, in case of a buyer's appeal no later than one day prior to the day of the event, until 16:00 a.m., except for weekends and holidays.
*Services are provided by the partners of Ancient Kyiv.
The program may change!
Telephone
+38044 461-99-37, +38 050 385-20-35
Email
This email address is being protected from spambots. You need JavaScript enabled to view it.
Address
Ancient Kyiv in the Principality of Kyivan Rus
Kopachov, Ukraine