Festival of the Middle Ages XIV-XVI centuries "Combat Platoon II". Festival "Shaggy paws" and show "Sky Horses"
Rest in Ancient Kiev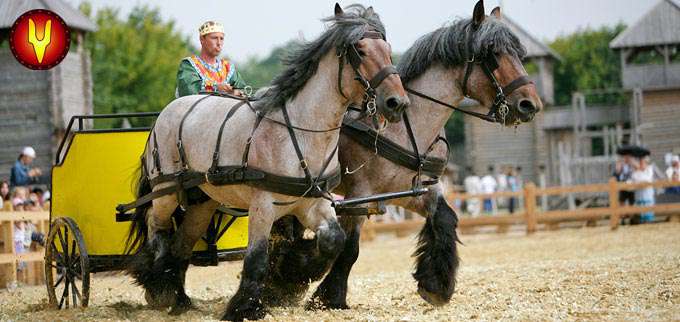 Dates:
01 June 2019
-
02 June 2019
Park open:
10:00
-
19:00
Place: Ancient Kiev in the Principality of "Kyivan Rus" | City: Kopachov, Ukraine
Near Kiev there will be a festival of pets "Shaggy paws"
In Ancient Kiev in the Principality "Kievan Rus" will be a bright event for children and adults - the Festival of Pets "Shaggy Paws." Guests are welcome to plunge into the magical world of animals: kind, loyal and sometimes funny. And these are the unique horses of historical breeds with the Princely stable, as well as the variety of breeds of dogs - from small to large, from furry - and not very much. And moreover, they will also show demonstrative performances that will not leave indifferent any person who will see firsthand these tricks from cute animals.
After all for many owners of dogs there is a problem - where to go on vacation, not to leave the four-footed friend at home to be sad, and together to go to a meeting with friends, and moreover - to get acquainted with other owners of animals and to communicate in a casual, pleasant atmosphere.
And those who do not have pets at home are waiting for an opportunity to see a bright show with the participation of equestrian stunt theater, trainers of dog clubs, performances of guests who have been selected for participation in the contest. And also arrange a bright photo session with dogs different breeds.
The festival "Shaggy Paws" is not just an exhibition of four-legged friends, but a real live communication with our lesser brothers. The event will be held under the patronage of the most illustrious prince Vladimir the Great and it will be interesting not only to specialists, but also to all lovers of animals and active family recreation in nature.
We invite everyone who wishes to participate in the festival together with their loyal friends.
Attention! Promotion for those who come with a dog!
Everyone who comes with his favorite - a discount on the entrance to the Principality "Kievan Rus" 50% of the adult ticket. The discount also applies to the accompanying pet owner in the amount of up to 2 people. Give more than one four-legged friend and get free admission!
In addition, festival participants and visitors to Ancient Kiev will be invited to participate in incendiary flash mobs and competitions. On the territory will work a medieval shooting gallery, where everyone can shoot from the bow and leave the spears and knives. It will be possible to ride on thoroughbred horses or in a carriage, make a commemorative coin in the princely mint, make a souvenir by hand at master classes on folk crafts or buy ready-made in a shop or on the street masters.
All guests with dogs are requested to bring a leash, a bowl (for drinking a dog), an equipment for cleaning the dog (especially if you go by shuttle bus, take a blanket, a pack and napkins if the dog can be rocked, and also cleaning products for a dog in a minibus). If the dog is large and unpredictable in behavior, be sure to take a muzzle.
Show-program "Sky Horses"
The feast of harmony of human and nature will be held in Ancient Kyiv, in the Kyivan Rus Principality - Show-program "Sky Horses".
The main ones at this event will be no princes or heroes, and their true companions and good friends but horses from the Princely Stable of Ancient Kyiv.
Unique collection of horses historical breeds will appear in front of the eyes of the visitors of the Principality "Kievan Rus". Only in Ancient Kyiv you can meet all this breeds together in one place. And only during such an exhibition.
A feeling of adrenaline for the guests will be provided by the fascinating zipline Politailo (where everyone can not only descend from the height, but also fly over the lake), as well as the high-speed slide "Zmey Gorynych", after which you can take a picture with a fire-breathing dragon..
Share this with your friends