International festival of equestrian martial arts "The Scythians"
Rest in Ancient Kiev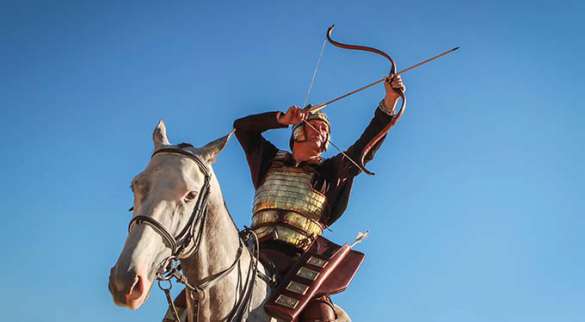 Dates:
22 June 2019
-
23 June 2019
Park open:
10:00
-
21:00
Place: Ancient Kyiv in the Principality of "Kyivan Rus" | City: Kopachov, Ukraine
Over the weekend, Kiev will host a festival of horse "The Scythians" martial arts.
22 and 23 June in "Kievan Rus Park" festival will be held equestrian martial arts "The Scythians".
In ancient times, the rider and the horse had to stay in close alliance, to stand in battle or to receive the trophy hunting. Continuing the ancient traditions, modern virtuosos equestrian martial arts show their skills in ancient Kiev.
The key event of the festival will be competitions of horse archers. They will be held at interesting scheme where in each subsequent round of the task more complicated. In the first race the rider will fall into one target to the next - a two and so on until four. Competitions mounted archers will take place day and night format.
Actors stunt-horse trick theater Ancient Kiev show mastery of various weapons that were used in the Middle Ages: swords, spears, Sulitsa. As well as the riders and their faithful four-legged friends will demonstrate the elements of combat trick riding: various tricks, which are now used in the demonstrations, and in the past have helped in the attack or saving lives in combat.
Viewers will see the race on the war chariots, archers presentation of costumes of different eras and peoples, as well as horse battle armor. Guests of the Park and will be able to feel themselves in the role of ancient horsemen, for it to be held open workshops on horseback martial arts.
By participants of the festival will be on the horses of the Princely Stables Ancient Kiev, which contains about 20 different historic horse breeds.
In addition to equestrian events battle theme, which will last a race of ancient Kiev for two days, waiting for the guests of the festival fun entertainment: sports competitions, Slav games, quizzes. You will be able to ride a horse, to practice in accuracy in the historic dash to buy an original souvenir street artists and so on.
A feeling of adrenaline for the guests will be provided by the fascinating zipline Politailo (where everyone can not only descend from the height, but also fly over the lake), as well as the high-speed slide "Zmey Gorynych", after which you can take a picture with a fire-breathing dragon..
Telephone
+38044 461-99-37, +38 050 385-20-35
Email
This email address is being protected from spambots. You need JavaScript enabled to view it.
Theatrical program
14:00 - 19:00 (on sat. until 21:00)
Buses from the subway Vydubychi
10:00, 11:00, 12:00, 13:00, 14:00 (additionally on sat.15:00)
(changes possible in the bus schedule) - Fare 40 UAH.
Buses from The Principality
16:00, 17:00, 18:00, 19:00 (additionally on sat. 20:00, 21:00)
(changes possible in the bus schedule) - Fare 40 UAH.
Address
Ancient Kyiv in the Principality of "Kyivan Rus"
Kopachov, Ukraine

Share this with your friends