Show-program "Sky Horses"
Rest in Ancient Kiev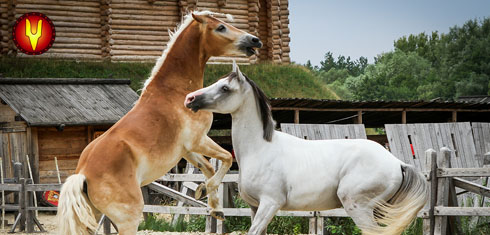 Dates:
08 June 2019
-
09 June 2019
Park open:
10:00
-
19:00
Place: Ancient Kyiv in the Principality of "Kyivan Rus" | City: Kopachiv, Ukraine
The feast of harmony of human and nature will be held in Ancient Kyiv, in the Kyivan Rus Principality - Show-program "Sky Horses".
The main ones at this event will be no princes or heroes, and their true companions and good friends but horses from the Princely Stable of Ancient Kyiv.
Unique collection of horses historical breeds will appear in front of the eyes of the visitors of the Principality "Kievan Rus". Only in Ancient Kyiv you can meet all this breeds together in one place. And only during such an exhibition.
Guests of Ancient Kiev will learn about the origin of breeds, about which outstanding people of antiquity at one time traveled to representatives of one or another breed of horses. Interesting will be master classes on the care of horses, on their saddle and harness in the crew.
By the way, already saddled or harnessed horses are comfortably rolled by all those who want to ride or in a comfortable crew on the territory of the Kyiv Dytynets (city of Prince Voloymyr the Great). Grasshoppers can be stroked, photographed with them.
And the horses will be not only live exhibits of the exhibition, but also actors of the horse-trick theater, of course in the tandem with the actors-people. Fright tricks make anyone breath and admire the complexity of execution and the grace of people and animals.
In addition, guests of Ancient Kyiv will be able to walk through the streets of the restored city, to view the exposition of historical costume and armor, medieval shipbuilding, and wooden architecture. Masters of Ancient Kiev will offer to make a souvenir with their own hands on one of the master classes on ancient crafts or to buy a finished handmade at the fair.
You can have fun with horseback riding and in a crew, archery in the medieval castle, reincarnate from the inhabitants of Ancient Kiev, dressed in costumes from the historic costume designer. For the little guests of the Principality of Kievan Rus there is a children's playground where animators will play fun games with them.
A feeling of adrenaline for the guests will be provided by the fascinating zipline Politailo (where everyone can not only descend from the height, but also fly over the lake), as well as the high-speed slide "Zmey Gorynych", after which you can take a picture with a fire-breathing dragon..
Share this with your friends