Whitsun holiday
Rest in Ancient Kiev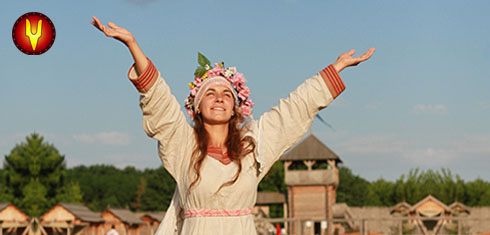 Dates:
15 June 2019
-
17 June 2019
Park open:
10:00
-
19:00
Place: Ancient Kiev in the Principality of "Kyivan Rus" | City: Kopachov, Ukraine
The Christian Trinity holiday is one of the main Christian holidays. But many traditions of this holiday have been preserved since ancient pre-Christian times. In Ukraine the Trinity holiday is called the green or the summer Sviatki. It symbolizes the beginning of the summer field work. The customs which are the part of the green holiday's cycle last from this day until the Kupala holiday.
In the Principality of "Kyivan Rus" the green holidays will be celebrated according to the ancient traditions. Everybody who will visit Ancient Kyiv during these days will feel the real spirit of celebration, unity with nature, will comprehend the wisdom of the ancestors.
On this day all the guests of Ancient Kyiv have a possibility to visit the church service in the st. Basyl`s church on the territory of the Principality from 12:00 till 13:00. In this beautiful temple of God the father will conduct the service after which he will sanctify all the favorite herbs and greens. The church is situated in 500 m from the main entrance gate.
Right behind the gate you will be welcomed with bread and salt and also be offered to take green herbs to decorate the city. On the street you will see a big cart full of different herbs and flowers from which you can weave a wreath. In ancient times wreaths were wards from the evil forces and misfortunes, both women and men wore them on the green holidays.
A festive program where the guests of the Principality can participate will start on the main tilting-yard of Ancient Kyiv. Everyone will be invited to weave a green corridor of birch twigs, take part in the godfather`s rite and after join the big friendly round dance.
A theatrical program for the Trinity holiday will include ancient legends, horse-trick performances, demonstrative melee fights and the presentation of horses of the historical breeds from the Princely Stable. The citizens of Ancient Kyiv have prepared a lot of interesting games and competitions for the guests. On the beach of the Emerald Lake everyone can relax and even go swimming.
For the small visitors of the Park there is a children`s playground, the museums of historical costume, ancient Slavic architecture and medieval shipbuilding will be waiting for the curious ones. And, for sure, everyone is attracted by the beauty and coolness of the forest lake.
A feeling of adrenaline for the guests will be provided by the fascinating zipline Politailo (where everyone can not only descend from the height, but also fly over the lake), as well as the high-speed slide "Zmey Gorynych", after which you can take a picture with a fire-breathing dragon..
Share this with your friends